TOP > Products > Medical Foods > GFO
GFO
®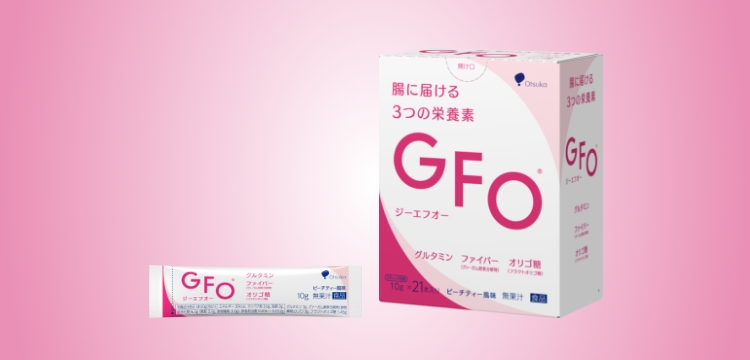 GFO is a powdered drink mix that contains glutamine, fiber, and oligosaccharides. The product name is an acronym for the 3 ingredients. The product provides 3 nutrients for the intestines and has a fresh lemon flavor.
Glutamine
Glutamine is a kind of amino acids and the most abundant amino acid found in the body.
Fiber (Dietary fiber)
Dietary fiber is mainly divided into soluble fiber and insoluble fiber. Insoluble fiber holds water in the gut. Soluble fiber is decomposed to short-chain fatty acids by the gut microbes, which are used in the body. This product contains soluble fibers (polydextrose and partially hydrolyzed guar gum).
Oligosaccharide
Oligosaccharide is food for bifidobacteria considered to be good bacteria.
Nutrition facts
(15 g/packet)
Calories 36 kcal, protein 3.6 g, fat 0 g, carbohydrate 6.0 g, dietary fiber 5.0 g, sodium 0.5 mg
Lactosucrose 1.45 g, glutamine 3.0 g
Product category
Powdered drink mix
Ingredients
Polydextrose, lactosucrose, dextrin, sugar, glutamine, hydrolyzed guar gum, acidulant, natural flavors, and sweetener (sucralose)
Volume
15 g per packet
Best before date
18 months after manufacturing date
Storage
Store at room temperature out of direct sunlight and high temperature.
Distributor
Otsuka Pharmaceutical Factory, Inc.
Manufacturing site
Otsuka Foods Co., Ltd.
6-6, Takamatsu-cho, Konan-shi, Shiga
Click here to buy the product
(available only on the Japanese site).